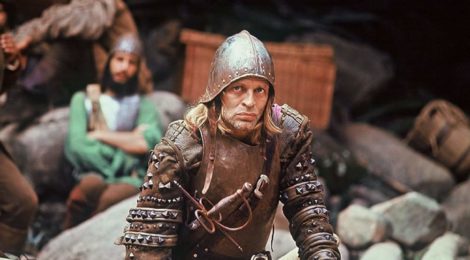 On 2 June 1978 Forest Row Film Society screened Michael Cacoyannis' Windfall in Athens (1954), the first film offered by the newly-formed organisation. Since then we have shown over 570 films, and are delighted that we are now presenting our fortieth season, with 17 more wonderful features for you to watch.
As ever, most of our programme is made up of new releases from around the world. We've screened several films by Iranian director Asghar Farhadi before (A Separation, Fireworks Wednesday) and they are always very well received, so his new feature The Salesman should also be a big hit here. From a different part of the Middle East is the extraordinary Clash, presenting a microcosm of the Egyptian revolution, and filmed almost entirely in the inside of a police van. And, back in Europe,  Frantz is the new film from François Ozon (8 Women, Potiche, The New Girlfriend), which is a change in register for him, but still a mesmerisingly ambiguous film.
We also have some amusing and uplifting films:  Toni Erdmann was best film at the European Film Awards; A Man Called Ove is a wonderful Swedish black comedy; and Finnish director Aki Kaurismäki's The Other Side of Hope gives us a laconic take on the life of a Syrian refugee.
There are a couple of film classics in this season too. It is many years since we last screened Fellini's La Strada, but now that there has been a West End production of it, and the film has been beautifully restored, it is a perfect opportunity to see it again. Rather different is Werner Herzog's Aguirre, Wrath of God, starring Klaus Kinski; people just don't make films like this anymore, and actors don't tend to try to kill the director during filming. It is extraordinary.
Finally, we have two fantastic documentaries for you: Citizen Jane is an inspiring tale of New York activism in the 1960s, and I Am Not Your Negro is a terrifically powerful account of the civil rights movement based on James Baldwin's work.
Many people have volunteered for the film society over the last 40 years, all of whom have played an important part in nurturing and developing film culture in our corner of Sussex. However, during our last season we mourned the passing of our long-time treasurer and French film expert Marie-Claire Thomson, who joined the committee in 1980. She was hugely important in the society, keeping us going when we needed encouragement, and being realistic when our ambitions got a little wild. One of her favourite films was Fellini's La Strada, which we're screening on 22 September, and we dedicate this season's programme to her. She would have loved it.
We look forward to seeing you.