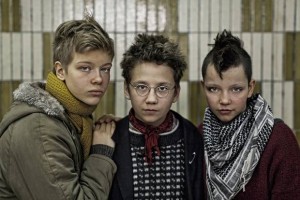 Friday, 12 September 2014: We Are the Best!
Friday, 12 September 2014, 20:00
Venue: Forest Row Village Hall (see Locations and Tickets for further details)
Programme category: Forest Row Film Society
Director: Lukas Moodysson, Sweden 2013, 102 mins, 15
"Like a cliff-top breeze or infectious laughter, the film's joy just blows right through you". Daily Telegraph
Set in 1980s Stockholm, 13-year-old Bobo and her best friend Klara pass their evenings listening to punk rock on their Walkmans, chatting on the phone and comparing the embarrassing behaviour of their parents. Totally bored with the mainstream interests of their classmates, an admin error at their local youth club sees them booting out the hairy rockers, and letting loose on a drum kit, bass guitar and microphone.
"Utterly charming, fresh and funny, We Are The Best perfectly captures what it feels like to be young and misunderstood." Film4
Further reading
Trailer