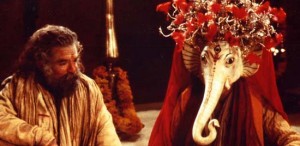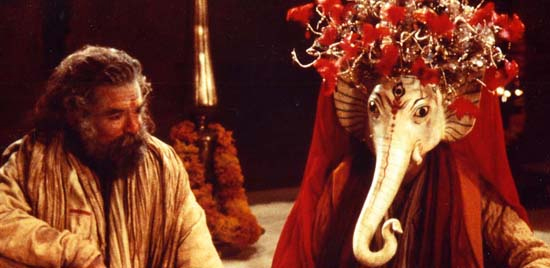 Saturday, 16 February 2013: The Mahabharata
Saturday, 16 February 2013, 15:00
Venue: Forest Row Village Hall (see Locations and Tickets for further details)
Programme category: Transition Forest Row
Director: Peter Brook, UK/France 1989, 318 min, U
The Mahābhārata is the greatest of the Indian epics, and this film version by Jean-Claude Carrière and Peter Brook is an astonishing, compelling rendering, based as it is on their earlier theatre production.
There will be two breaks: one at about 4.45 for half an hour for tea; and a second at about 7pm for food.
Tickets will be £15/12 (concs) including food (vegetarian supper from Khan's), and you are strongly advised to book in advance (not least since it is cheaper). Tickets available from Eventbrite and you can buy them in person from Bramble Corner in Forest Row.
Further Reading
It is prudent to read the basic story before you come, though we will be providing an outline as well:
Reviews
In addition to those above, there have also been some critical views of the project from India, which are also worth reading:
Trailer