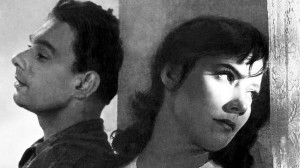 Friday, 02 November 2012: The Cranes are Flying
Friday, 02 November 2012, 20:00
Venue: Forest Row Village Hall (see Locations and Tickets for further details)
Programme category: Forest Row Film Society
Director: Mikhail Kalatozov, Soviet Union, 1957, 97 mins, PG
"it never ceases to be exciting and stimulating" "the camerawork is fantastic and the beautiful Tatiana Samoilova makes a perfect tragic Russian heroine" Sight and Sound (1958)
The innocent romance of two young lovers in Moscow is destroyed by war when the young boy volunteers and the girl never gives up hope. A patriotic melodrama with extraordinary poetic cinematography, which won the Palme d'Or in 1958.
"eye-popping cinematography, with visual virtuoso Sergei Urusevsky pushing 1950s technology well beyond what seems technically feasible" Sight and Sound 2007
Further Reading
Trailer
Please note that this trailer does not have English subtitles, though the version we will be screening does!