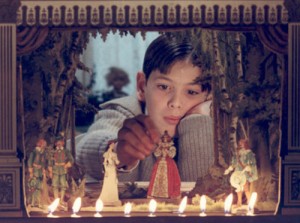 Saturday, 22 February 2014: Fanny and Alexander
Saturday, 22 February 2014, 15:00
Venue: (see Locations and Tickets for further details)
Programme category: Forest Row Film Society
Director: Ingmar Bergman, Sweden 1983, 300 mins, 15
"'A declaration of love for life.' Fanny and Alexander, Ingmar Bergman's new film, is that and more. Bergman adds that it is 'the sum total of my life as a filmmaker' …. A charming, expansive, exhilarating film, it is a masterpiece. … Now Bergman has turned to his personal and professional past to provide a glorious, glowing celebration of human beings and of the sweet things in life….This is a film to revel in for its joy, its warmth, its breadth of mind, and its depth of feeling. Like Fellini's Amarcord, Bergman's Fanny and Alexander is not only the sum total of a career; it encompasses and refreshes our lives." – Judith Crist, Saturday Review
A lovely child's eye view of the Ekdahl family, in early twentieth-century Sweden. Bergman's self-styled farewell to cinema is the director's warmest and most autobiographical film. Winner of four Academy Awards, Fanny and Alexander combines emotional intensity with immense joy and sensuality. A special screening with dinner.
Tickets must be booked in advance: £17/£15 (concs), and discounts for members. Includes dinner. Bookings have now closed.
"This is a virtuoso piece of film-making in which many of the director's most persistent obsessions are drawn together. It's at once a meditation on childhood, a celebration of theatrical life, a nostalgic evocation of turn-of-the-century Sweden, a portrait of a family, and a film about a boy (Alexander) coming to terms with the death of his father. Moments of high comedy (the uncle farting on the stairs) are interspersed with vicious, Strindberg-like rows between couples and scenes of grief. No character is one-dimensional." – Geoff Milne, Sight and Sound
Further reading
Many of these reviews are of the shorter, theatrical version (which Bergman hated).
Trailer