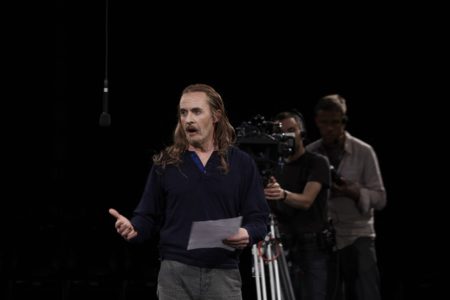 Friday, 08 December 2017: Event for a Stage
Friday, 08 December 2017, 20:00
Venue: (see Locations and Tickets for further details)
Programme category: Forest Row Film Society
Director: Tacita Dean, UK 2014, 50 mins, Not rated
"a gripping, unpredictable and inherently theatrical experience" Sydney Morning Herald
What is real, and how do we know? Over four nights, Turner Prize nominated artist Tacita Dean filmed a performance by Stephen Dillane during the Biennale at Sydney, and Event for a Stage is a rendering of that work. Completely engrossing and unsettling, we watch, are drawn in, engage and struggle to create narrative sense of a complex, contradictory and ambiguous act, as the actor circles the stage, successively pulling the rug from under our feet.
Variously touching on the nature of theatre, acting and film, as well as the instability of truth and what it is to be human, we are delighted to be able to present this brilliant work in 16mm for a rare UK screening.
Tickets are available online via BookItBee, and should be available on the door.
We will be projecting from the stage towards the screen above the door, and for this reason latecomers will not be admitted.
Further reading