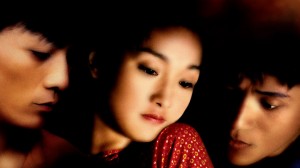 Friday, 26 October 2012: Balzac and the Little Chinese Seamstress
Friday, 26 October 2012, 20:00
Venue: Forest Row Village Hall (see Locations and Tickets for further details)
Programme category: Forest Row Film Society
Director: Dai Sijie, France, 2002, 111 mins, 12A
"Revolutionary peasants have no use for your bourgeois reactionary chicken!"
Semi autobiographical, this film revolves around two Chinese teenage boys of bourgeois background sent for Maoist "re-education" where they both fall in love with the village tailor's granddaughter. The three find solace and liberation in a collection of banned translated novels by Western authors, among whom their favourite is Balzac.
"Reliving his youth, Dai Sijie finds both joy and sadness in the upheaval of the Cultural Revolution – sadness in the misery of those years of strict indoctrination, but uplifting joy in the realisation that change can bring freedom." BBC Film
Further Reading
Trailer
Note that this trailer does not have English subtitles, though our screening will!