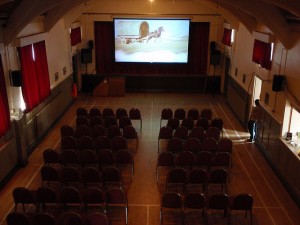 Films have been screened in Forest Row since the 1920s. Certainly, the village hall hosted "a cinematographical show put on by Mr Mapplesden of the Whitehall, East Grinstead, on a weekly basis" from around that time, as Eric Byford notes in his History of Forest Row Village Hall.
Screenings have been pretty much continual since then, with only occasional intermissions. Things were certainly more lively in the 50s, as some residents may remember: "The cinema proprietor was asked to employ a person to keep order in the hall during performances, for at some shows fighting had broken out and damage to the property had occurred". The South Coast Mobile Cinema Service ran screenings from 1954-56, and then Malcolm Powell continued running the events.
Forest Row Film Society started in 1978, and have been running ever since, being awarded Film Society of the Year in 2009. Other organisations also organise screenings in the village too; Transition Forest Row have been hostings films since 2007, initially at the Brambletye Hotel, but now almost entirely in the village hall, with occasional forays to Emerson. Michael Hall has hosted some films too, and other organisations in the village have also run events.
Most recently, Forest Row Parish Council has started drive-in screenings in the centre of the village. Indeed, the first one on 1 September 2012 was reported to the police as a rave, and subsequently featured in the Daily Telegraph.