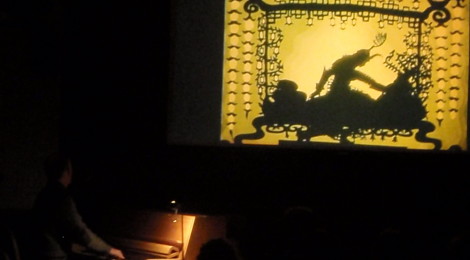 A litany of things not quite going to plan over the last twelve years
Several years ago a friend at the BFI said to me "Nice film programme! You're better than the Curzon Soho!" However, we are very different from slick London venues. Though commercial cinemas can have cock-ups and unforeseen surprises, our particular community cinema in Forest Row has quite a collection of events that have been particularly memorable for reasons other than the film, even if the audience doesn't always notice.
Though it is rather like washing your dirty linen in public, I think it is time to reveal a relatively little-talked-of side of community cinemas, yet one which, for me, is an integral part of the delight, even if it doesn't always feel like that at the time. So, the contents of our linen basket can be divided into three categories: technical happenings; venue issues; and our wonderful audience….
Machine madness
You wouldn't think that too many things can go wrong; we're just putting on a film, right? Well, most of the time it is completely fine, but it is the moments when it isn't that stick in the memory. We were still running 16mm up until October 2008, and that always had some attendant risk. The prints were often old and, if that was the case, there is always the chance that they may surprise you in unexpected ways.
We have been doing regular silent films with live music for over a decade, and showed Murnau's Faust in 2007. It ran completely smoothly until, a few minutes from the end, just as the angel appeared, the film snapped. At least with film it's possible to stuff it into the projector and get it going again.
Still, 16mm does give you the option of running reels in the wrong order, which is what we did with A Taste of Cherry. It is one of those films where the titles don't start until well into the film, and the beginning of both reels looked remarkably similar. At least that evening we could watch what was on the screen. On another occasion, there were so many bad joins in the film that parts of it were a shade wider than 16mm, so didn't fit on the take-up reel. This resulted in hundreds of feet of film emerging from the projector and accumulating in a heap on the floor. Untangling the mess in almost complete darkness occupied us for the rest of the film, so we have no recollection of which one it was.
With the advent of digital equipment a whole new range of technical issues can come and bite you, whether that be running a film in the wrong aspect ratio, or at (slightly) the wrong speed. Digital can just be really flaky too, with images not keeping synced with the sound, or sometimes it just stops, as happened to Les Demoiselles de Rochefort, triggering a small exodus while we attempted to fix it, and demonstrating that, no matter how much you think you know your audience, sometimes you can be so very wrong.
And despite how much equipment you have, once in a while you discover too late that there is one more thing you should have bought. For our much-anticipated screening of Fellini's Amarcord, we realised twenty minutes beforehand that we should have had a Region 1 BluRay player, but didn't. Still, rather than turn everyone away we grabbed a heap of other films, offered a selection to the audience, and, though it was a divided choice, we set about starting to watch Fellini Satyricon with good humour. Not that many made it through to the end, though… I don't recommend post hoc licensing, either.
Venue madness
We all love the village hall, but it does have its quirks. The heating is probably its most well-known feature, though it is better than it was. Many times we have frozen our audience, though it only added appropriate ambience for The Great White Silence, the official film of the ill-fated Antarctic expedition of 1912.
As it happened, neither the extensive flooding in the toilets nor the buckets collecting water from the leaking room coincided with our screening of Let's Talk About the Rain, though some years ago the dripping water got closer to the equipment up in the projection room than was desirable…
Since the hall is right on the edge of the A22 and isn't sound-proofed, we get some wonderfully inappropriate street noise too. Police cars and a fire engine in the middle of Tarkovsky's Mirror was a nice touch. Then, once in a while we have had aural competition from the small hall at the other end of the building. The evening of The Passion of Joan of Arc versus Reggae Train was one to savour.
Audience madness
And finally, the community part of 'community cinema' can deliver a few surprises too. Despite trying to advertise Claire Denis' film Chocolat as being somewhat different from Lasse Hallström's film of the same name, we still ended up with parts of our audience chanting "We want Juliette Binoche. We want Juliette Binoche" on discovering it wasn't quite what they were bargaining on.
Special events can add a frisson of excitement too. The screening of the anti-fracking film Drill Baby Drill attracted loads of people, but led to a rather unedifying Q&A, and when our special guest speaker was introducing Last Year in Marienbad and started to get heckled, for a brief moment I thought there might have been a fist fight. It would have carried on an old tradition, though. In pre-Film Society days the village hall often screened films in the 50s and 60s and (so I'm told) fighting at the back wasn't uncommon.
Until I came to Forest Row, it had never occurred to me that you might want to take your dog to the movies. Hey, why not? Bring them all! We now have a regular band of cinephile dogs: Billy and Buster are the most regular attendees, but there are others (eg Tiggi and Ziggy [any more dogs that need to be name-checked?]). They even join in from time to time, especially when there's some on-screen barking, and sometimes they might bristle for a fight, too.
One of my favourite madly memorable events also involved dogs. Like all those since, the first ever Forest Row Festival in 2006 included a programme of some silent comedies with live music. We had no idea how popular it would be. Zillions of people turned up, leaving a massive metallic tangle of bicycles outside while we desperately tried to find enough chairs. There were dogs. And Ben Elton (who had to sit on the stage because we ran out of chairs). But no musicians. Then suddenly the famous green van appeared, delivering Stephen Warbeck, Jonathan Truscott, Terry Davies, Anna Cooper and Sarah Homer, together with an ironing board, pots and pans and a heap of other makeshift instruments. We cleared a space, tried to stop more people from piling in, and finally managed to run the Harold Lloyd shorts. There was cheering, cat calls, and loads of laughter, and a complete scrum at the end when everyone tried to leave.
In all the craziness that day, one of the last people to leave was an elderly chap who told me on the way out how much he had enjoyed it, and how it reminded him of seeing silent films in Forest Row Village Hall when he was a kid. Community cinema here may have occasional moments of madness, but that one observation was a jewel which has stayed with me ever since. I bet our screenings still have more in common with those film shows here in the 1920s than they do with the Curzon Soho. And that's a good thing.