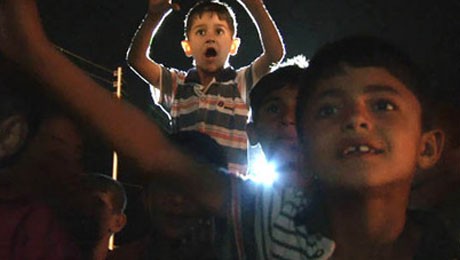 The range of films available for community cinemas on the BFFS booking scheme continues to get better and better, with some fabulous new releases, silent masterpieces and lots of interesting relatively unknown films from all over the world.
These are all the new additions in the December list. You might also want to check out the recent items on the BFFS blog, which includes further details of some of these, as well as some reviews of other recent additions.
Other similar posts on this site include:
The Artist and the Model (Fernando Trueba, 2012): Ageing artist paints young model in war time. With Jean Rochefort, Claudia Cardinale.
Baraka (Ron Fricke, 1992): "Technically, a wow. 'Koyaanisqatsi' cinematographer Ron Fricke offers more wordless eco-spectacle." Time Out
Berlin '36 (Kaspar Heidelbach, 2009): Drama based around the Berlin Olympics
Blackfish (Gabriela Cowperthwaite, 2013): Acclaimed killer whale doc.
Buster Keaton Shorts: The definitive collection of films including Cops, The Scarecrow, One Week and many more.
Dr Mabuse: The Gambler (Fritz Lang, 1922): The first of the Mabuse films.
Edge (Carol Morley, 2010): Drama from Dreams of a Life director.
False Trail (Kjell Sundvall, 2011): Cracking Swedish thriller, follow-up to The Hunters.
Fireworks Wednesday (Asghar Farhadi, 2006): Another feature from the director of A Separation
The First Movie (Mark Cousins, 2009): I love Mark Cousins' films. Here he takes a selection of films to a village in northern Iraq to show the children, and gets them to film their own lives as well. Wonderful.
Girlfriend in a Coma (Annalisa Piras, 2012): Excitingly controversial documentary about the state of modern Italy.
Gloria (Sebastián Lelio, 2013): Much praised Chilean film, which I'm keen to see.
The House I Live in (Eugene Jarecki, 2012): Hard-hitting attack on USA's war on drugs.
The Housemaid (Sang-soo Im, 2010): A re-working of a Korean classic from 1960
The Hunters (Kjell Sundvall, 1996): Swedish crime thriller, pre Borgen, but apparently just as good.
The Land of Hope (Shion Sono, 2012): Much-praised drama set in Japan post tsunami and nuclear meltdown.
Little Red Flowers (Yuan Zhang, 2006): Story set in Chinese boarding kindergarten in the 1940s.
Love Crime (Alain Corneau, 2010): Thriller starring Kristin Scott-Thomas and Ludivine Sagnier, in Corneau's last film.
Mad Detective (Johnnie To/Ka-Fai Wai, 2007): Hong Kong police thriller.
Magnifica Presenza (Ferzan Ozpetek, 2012): Bittersweet comedy made in Italy.
A Man Vanishes (Shôhei Imamura, 1967): Part drama, part doc from Japanese master, on people who disappear and negation of the self.
Metropolis (Fritz Lang, 1927): The restored version of Lang's masterpiece. Essential.
The Moo Man (Andy Heathcote/Heike Bachelier, 2013): A man and his cows from Pevensey.
Nosferatu (F.W. Murnau, 1922): One of the great films of the silent era.
Out in the Dark (Michael Mayer, 2012): The Israel-Palestine conflict viewed through the prism of a gay relationship.
Paris-Manhattan (Sophie Lellouche, 2012): French homage to Woody Allen
The Passion of Joan of Arc (Carl Theodor Dreyer, 1928): Iconic, mesmerising Dreyer.
Pearls of the Far East (Cuong Ngo, 2011): Vietnamese/American film comprising seven tales, which has won several awards.
Planet of Snail (Yi Seung-jun, 2011): Tender much-praised documentary about blindness.
Punishment Park (Peter Watkins, 1971): Fictional 'documentary' of extreme US correctional regime by British director of The War Game
Salute (Matt Norman, 2008): Intriguing account of Peter Norman, the third man on the podium on the occasion of the famous black power salute at the 1968 Olympics.
Samsara (Ron Fricke, 2011): Beautifully-shot, wide-ranging portrait of many peoples of the world.
Side by Side (Chris Kenneally, 2012): Directors and other film professionals discuss the impact of digital. With Keanu Reeves, Steven Soderbergh, James Cameron, David Lynch, Richard Linklater, Martin Scorsese and many more.
The Spirit of '45 (Ken Loach, 2012): Great doc about the aspirations and hope of the post-war Labour government and its legacy.
Soul Power (Jeffrey Kusuma-Hinte, 2008): Concert film of the Zaire '74 music festival in Kinshasa that included James Brown, Bill Withers, Miriam Makeba, Hugh Masekela and much more.
Tabu (Miguel Gomes, 2012): Mesmerising Portuguese film from last year, and utterly unlike almost everything else I've ever seen.
The Testament of Dr Mabuse (Fritz Lang, 1933): Dr Mabuse the fascist directs his henchmen from prison.
The Thousand Eyes of Dr Mabuse (Fritz Lang, 1960): The last of Lang's Mabuse films, and still worth watching.
Tokyo Sonata (Kiyoshi Kurosawa, 2008): "An extremely impressive and intricate family drama" says Time Out, and it looks great.
Uniform (Yi'nan Diao, 2003): A young guy comes across an apparently abandoned police uniform…
Utopia (John Pilger, 2013): Australia's dysfunctional relationship with its indigenous peoples.
Vampyr (Carl Theodor Dreyer, 1932): An ideal candidate for programming on Halloween…
Village at the End of the World (Sarah Gavron/David Katznelson, 2012): A year in the life of a remote Inuit fishing village.
Vito (Jeffrey Schwartz, 2011): Doc of amazing life of New York gay activist Vito Russo.
White Elephant (Pable Trapero, 2012): Two priests in a Buenos Aires slum.
The Year Dolly Parton was my Mum (Tara Johns, 2011): An eleven-year-old girl becomes convinced that Dolly Parton is her biological mother.
The Yellow Sea (Hon-jin Na, 2010): South Korean gangster film.