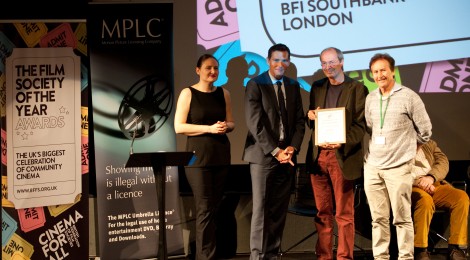 The annual BFFS national conference and awards took place 21-22 September 2013 at the Institut Français.
Unfortunately, I only managed to get there on the Sunday since the Forest Row Festival clashed with it this year, and I couldn't miss Howard Moody playing for our screening of Buster Keaton's The Navigator.
The programme of the weekend shows what a packed and interesting event it was. Ian Christie (professor of film history at Birkbeck) had written a short piece on the future of film societies, which discussed how important it is to extend the ways we engage with film, which had parallels with previous blog posts on this site about participation and engagement. He asked us to think more about what attracts our audiences to social viewing, which includes our focus on hard-to-see films, film education and introducing our audience to the history of cinema.
The conference sessions are always interesting, and it was a shame I didn't get to any, since they included fundraising, technology, programming, and partnerships and the models of operation of film societies, but useful, detailed notes of most of them are available on the BFFS website. Technology is changing all the time; indeed, it still doesn't seem that long since we were screening 16mm, but digital is evolving rapidly. Commercial cinemas tend to operate expensive digital systems (DCI) that are beyond the reach of film societies, so it was interesting to meet Danny Jeremiah of Kinopto who has developed a much more affordable alternative, and has written a useful summary about why it is important. Since Kinopto are just down the road in Scaynes Hill I think we'd better do some investigation…
Delegates also had the chance to preview some films. I saw The Artist and the Model (dir. Fernando Trueba), after which there was a short group discussion. Some of the audience quite liked it, but I felt it was relatively uninteresting compared with other films about the artistic process, such as La Belle Noiseuse, El Sol del Membrillo and Pollock, and rather ignored all the political setting. Even so, the discussion illustrated how interesting such post-film activity can be, and we should certainly consider doing something like that for selected films in the future.
The other films of the weekend sounded rather better. They included: Sebastián Lelio's Gloria, which has had great reviews, and was much-liked by many people who saw it; Blackfish, an amazing documentary about killer whales at SeaWorld, and more generally on issues about animals in captivity. It was the highest-scoring film of the weekend. Like Father, Like Son, the new film by Hirokazu Kore-eda (After Life, Still Walking, I Wish (which we're screening on 28 March)) was also popular and another good contender for next season. Finally, there was a selection of films from the Encounters Short Film and Animation Festival; we're keen to include more shorts in next season's programme, so that collection may include some good candidates.
Then, on the Sunday afternoon, we all trooped over to the BFI Southbank for the Film Society of the Year awards. It was extremely surprising and gratifying to discover that we had won the award for Best Film Programming, and a commendation for Best Marketing and Publicity. Funnily enough, I thought we had the better chance for the latter category, not least since the other organisations who were up for Best Programming were the equally awesome Edinburgh Film Guild, Hurstpierpoint Film Society, Classic Cinema Club Ealing, Highgate Film Society, Lincoln Film Society, and Newcastle Community Cinema in Northern Ireland.
To be awarded the Best Film Programming award is particularly noteworthy, since that means we have won this award three times in the last five years, which is a remarkable recognition of what we all do. Devising the programme and crafting an interesting balance of films is a central part of running a good community cinema, and I know many of the hundreds of community cinemas around the country are as keen to aim for this prize as we are. The commendation for the award read:
"What an incredible year it has been for the winning organisation. A huge programme of incredible, exciting and unusual films has been put together. With innovative screenings and responses to suggestions from members, this group is committed to taking their audience on a very special cinematic journey.

From digging out an almost forgotten 318 min Indian epic (including two breaks: one for tea and one for curry) to screenings of local and social importance in collaboration with the village's Transition group, this organisation is dedicated to providing enjoyable and unique experiences that enhance the basic act of cinema going."
The mention for marketing and publicity was really nice too, since that recognised our shift to well-designed full colour programmes in the last few years, the redesign of our website and all our social and traditional media. However, the award for Best Marketing and Publicity went to the truly wondrous Newcastle Community Cinema who also won the Community Award and were Film Society of the Year for the second year running, which is not at all surprising considering all the amazing work they do.
The award for Best Film Education Programme went to the very impressive Passenger Films, who screen in various locations in London. Focussing on film and cultural geography, their film events include lots of fascinating introductions, Q&As and discussions, as is evidenced on their website and blog. I must get to see one of their screenings.
A new award category this year was the Film Society Film of the Year. This is awarded to the film that member organisations considered the best, or most popular. Like many, our vote in this category was based on our audience scores for the 2012-13 season (which meant that we voted for Departures). However, the big favourite that won the award was one that we've not screened: the French box office success Untouchable. The directors Olivier Nakache and Eric Toledano couldn't make it to the ceremony, but they sent a delightful thank you video message.
I was also delighted that Llancarfan Community Cinema won the Filmbank Audience Award and Best New Society; with the cash prize for the former they will be buying a permanent screen. They have already created a really fabulous environment for film, and include lots of nice touches, such as slide shows of people in and around the village before a screening.
The award submissions and the complete list of all the winners are on the BFFS website, and are certainly worth a read since they are so inspiring. Reading them makes it clear why the national conference and awards are so important: by meeting with and talking to other community cinemas we can see clearly how the film events we put on in Forest Row are part of something much bigger, and in so doing we always get lots of new ideas which stokes our enthusiasm for the future.
Thank you to everyone for all your support, to the committee for holding it all together, and everyone else who volunteers, whether in helping with the chairs, doing the refreshments or simply in spreading the word. If you fancy helping out in any way please let us know!
[Credit: all photos copyright Mark Epstein: www.markepstein.co.uk]