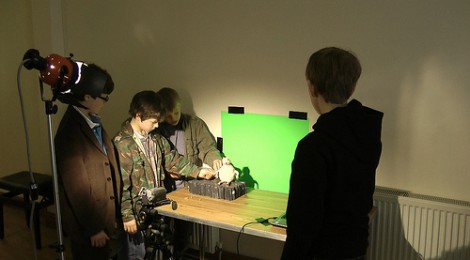 Doing even more… You've generated a buzz and interest in what you're doing, but what sorts of things can you do to take it to a new level?
Continuing our thread on developing more participation within a community cinema, inspired by a reading of Nina Simon's book The Participatory Museum[1], this article starts to add more adventurous options. You may also describe some of them as onerous, mad, and impractical, but bits of them may be suggestive of other more realistic opportunities. If so, let us know your other ideas.
Now, all of the ideas in these posts need resourcing, and the ideas in this one need more resourcing than most. I don't explicitly address how you achieve that, but implicitly the whole point of developing participation and engagement is that it encourages your audience to do stuff, and that by doing some of the other, easier things, it should mean that you will find more people to help with the harder ones. This was certainly borne out in Forest Row. Three years ago, after several very successful seasons, we had a very well-attended AGM, in which many people were enthusiastic to support and do more. Out of that emerged a committee to devise and run a small film festival over a long weekend. It was great: we attracted a new audience; ran workshops; special events; engaged with local businesses; and added new expertise to the organisation.
That AGM was a success because we turned it into a film-related social event. We bought everyone a drink, and had a great time. The following year we extended that again and added a film quiz, which should probably be the topic of a separate piece itself.
When you have attracted enough willing hands it gets so much easier to go that extra mile for special one-offs. Earlier this season we ran a screening of Peter Brook's Mahabharata (all 5.5 hours of it), and had a brilliant group of people to decorate the place, and help with serving out the food. But there is so much more that is possible:
IDEA: Themed screenings with dressing up and venue make-overs (this was something that was covered really well at last year's BFFS conference, and illustrated around a screening of The Red Balloon).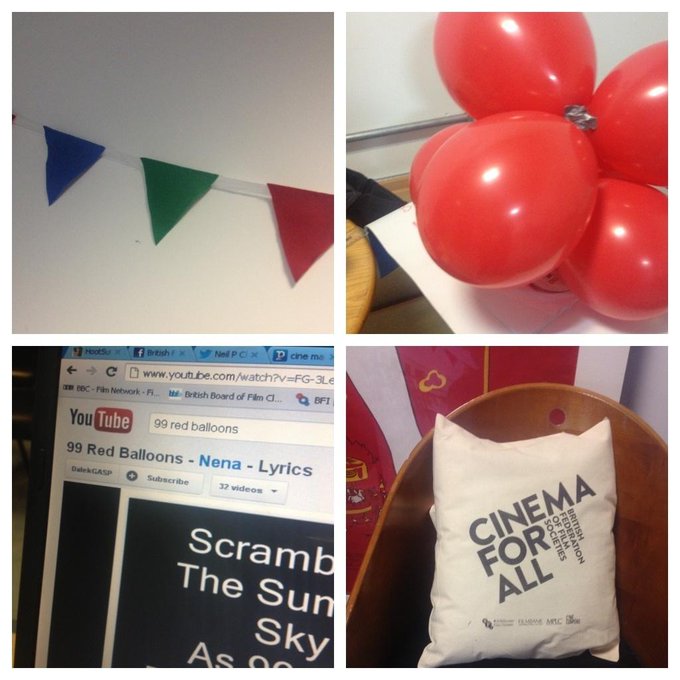 The 2012 Film Society of the Year, Newcastle Community Cinema in Northern Ireland is also superbly inspiring, not least with their recreation of the bowling alley for their screening of The Big Lebowski. Once you start thinking about dressing up your venue, the possibilities are almost endless. We've got some useless and unusable 16mm film reels in the cupboard, and I've been wanting to use that for decoration for ages. After seeing Swandown, I could imagine filling our hall with thousands of rubber ducks, and I've love to have an itinerant screening around the village with a 16mm projector rigged up on a hand cart, as Agnes Varda did in Les plages d'Agnes. The mad brainstorming sessions can be a huge amount of fun in themselves. You must have had some crazy and bizarre ideas too. What are they?
Another group whom many film societies engage with for mutual benefit is local filmmakers. We've screened shorts made by the students at a local community technology college, and Lincoln Film Society regularly give local film makers (many from the university) a chance to show their work. They have also co-operated with Lincoln Shorts (an evening of short films) to ensure that the most popular films of the evening (as voted by the audience) get a showing on the big screen.
In the same discussion on the UK Film Societies Group on Facebook[2], Amanda Randall at Screen St Ives also noted:
We've shown a few shorts from local A level students, and we're trying to get involved with one of the primaries that has a history of Year 3/4 making films. We've also shown shorts from other film makers who have moved away but still have family in the area – and it's these family members who make the connections for us.
Developing film making and related skills is something several community cinemas have done:
IDEA: Run creative hands-on workshops, for kids and adults: limited enrolment classes on film-making/technique; animation; flick book creation; Victorian optical "toys"
We ran some very successful animation and film-making workshops in our film festival two years ago, aimed at a range of different ages. However, we didn't target any of them at adults, and I was surprised how many people would have liked to have had a go, not least to understand the basic mechanics of film-making. Clearly, then, participatory activities can have a film education component to them too, however subtle. I'd really like to extend that, for example:
IDEA: Design an evening modelled on TED talks, with 5-10 min slots by people who work in the industry and live locally, informing audience about what they do, with examples etc, eg
Actor
Director
DP
Editor
Composer
Sound
Exhibitor (issues in running a community cinema)
It could also be interesting to do these before a specific film, and all of the participants reference the film. Notes also that, if you want to organise a TED type event, then there are rules that you must follow[3]. There are other models for such events too, such as Ignite, Lightning Talks, Unconferences, Open Space and more which, though they have "rules", may be easier models to organise than TEDx. These could also be interesting models to try out at a future BFFS conference, too!
At the less radical end of the spectrum, illustrated talks and screenings can also be appealing:
IDEA: Engagement and education can go hand in hand, and gently introducing some film nuts and bolts through an illustrated talk on early cinema can be a good thing to do.
For us in Forest Row, we also have the Sussex connection with all the early film pioneers in Brighton and Hove, but more broadly one could create an evening of many of these early screenings, with an introduction to cutting, close ups, narrative, point of view and more. Ideally there'd be live music and you could even try to recreate a flavour of a 1912 entertainment, with songs and some of the wide range of experiments of film exhibition from the period. [4]
I'd also really like to encourage more viewing of shorts, and extend viewing in that direction:
IDEA: Encourage audience to view shorts online, embed in regular blog posts, to elicit engaged comment. Needs several committee + other volunteers to curate the programme, eg from specialist channels on YouTube/Vimeo and direct users to good stuff on mubi (esp the periodic free materials)
Such activities certainly need active, and committed participants, but it's not that they aren't about. We just need to harness them:
IDEA: If some respondents are very engaged about specific films, especially if it's one you are going to screen, get a brief audio/video interview with them about it and post it to your film society Youtube channel, and screen it before film
As we head along the trail of thinking up more and more activities and events that require lots of people to pull them together, I am led to the idea of creating an exhibition, for instance:
IDEA: Create a co-curated community-sourced exhibition "Films and Memories" on how film provides a strong cultural thread in people's lives, with clips/interviews and participants in person. Possibly in conjunction with your local museum. Movie Memories: Significance of film in a community's life. Good opportunity for grant funding? Would raise awareness of community cinema locally. OR a related series with a local radio station.
Or, here's another exhibition idea:
IDEA: How many people have film-related stuff in their house? Create a user-generated exhibition during your village festival, with user-contributed display labels: posters; equipment; ticket stubs (memorable screenings); photos; books. Seed initial submissions from people you know have stuff, and then get people to bring stuff along during the course of the exhibit. It would make an ideal blog post, and you could also output it as a book via lulu or blurb.
There's probably a number of options for some sort of film-related oral history project in your community too:
IDEA: Oral history projects:
on film-going in local community
or use filmed local events as source:

1929 Forest Row pageant
Filming of Wyler's The Collector in Forest Row
Kennedy visit to Forest Row in 1964
Forest Row Festival
Other newsreels
The recent Medway on Screen project run by Screen Archive South East was particularly inspiring; I conducted one interview for it, and it was fascinating to see how video and audio materials can be used creatively within a community. However, I'm under no illusion about how much work such a project is, and how much it can cost…
So, we've come a long way from capturing audience reaction scores in our quest to create a participatory cinema. What else can we do?
POSTSCRIPT: I must note that here in Forest Row we've barely scratched the surface of this list of ideas. There's enough material to keep us entertained for another decade or more.
Nina Simon. The Participatory Museum. 2010. Museum 2.0: Santa Cruz, California. Also available on http://www.participatorymuseum.org/
16 February 2013 http://www.facebook.com/groups/ukfilmsocs/permalink/369863176454730/
The TEDx rules are very precise about how to organise such an event http://www.ted.com/pages/tedx_rules
Numerous chapters in Richard Abel and Rick Altman (eds) The Sounds of Early Cinema, Indiana University Press, 2002 give some great ideas for creating screenings inspired by the methods and practices of early cinema.