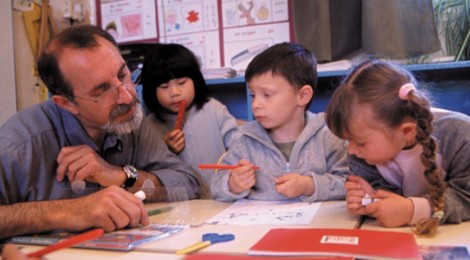 How much do people participate, and what more might they do?
The last item in this thread opened up the promise of what an increased participatory culture can do for your film organisation. Now we can start to think about how we might achieve that.
In her book[1], Nina Simon describes a study which classified the different roles that participating individuals may have (whether for an online community, or for any community). We can look at these and see how they might map to our audience and potential audience:
Creators: Film programmers; writers of programme notes and website copy; bloggers; cake-makers; people who introduce the films
Critics: Anyone who gives us feedback (verbal or written) including audience reaction respondents, and suggestions for future screenings
Collectors: People who help aggregate and disseminate our programme, to other email lists, Facebook Shares, Twitter RTs
Joiners: The members; people on the email list, and Facebook and Twitter followers
Spectators: People who turn up to see a film, but who aren't members; people who pick up the printed programme but don't come; people who actively notice what we do, but haven't come to a film
Inactives: The people who don't engage at all. Yet….
Typically, individuals may fall into more than one of these categories at different times, too, and some of these groupings include quite a range of degrees of engagement. Still, we can all participate at different levels, as we feel appropriate.
This classification of participatory activity is borne out by statistics of online user groups, where (typically) 90% lurk, 9% contribute a little and only 1% are active. Now, it would be nice to get full and focussed participation from everyone, but that's not going to happen. So, let's make the most of and value everyone's contribution, from those who might once have Liked our Facebook page and done nothing since, through to the volunteers who contribute hours of their time.
The implication of this is that we shouldn't design all participatory activity just for the people who we know will turn up and do stuff; it is important to create ways of eliciting contributions that makes it easy for everyone to do so, and so get something useful back for the film society. Many community cinemas do this already by getting audience reaction scores and collecting ideas for future screenings from the existing audience.
Objectives
But what sort of participation do you want? Let's start with looking at our organisational objectives since they should help give us direction. Here we may meet the first obstacle: do your organisation's goals actually contain what you think they should? For example, the Forest Row Film Society constitution currently says our objective is to "encourage an interest in film" and "promote the study and appreciation of film"; surely this would be better if it was to "develop" each as well, since that mandates us to do more?
Even so, before we even start to try to get our audience and wider community to participate in our film activities, what would a successful future look like? Well, probably a bit like the second scenario in the previous post, but we can make a list:
Increased and sustained audience numbers
Increased average number of visits per person per season  and repeat visits
A more engaged audience
A more film-literate audience
More engagement with other community groups
You might have some ideas for more. If so, what would you add?
First steps
Whatever the list of desirable outcomes you draw up, a vital part of achieving them is to increase opportunities for participation across the board. Make sure a good number of the activities are easy and inclusive. For example, some people will only do them when they are actually in your venue.
OK, I'll start proposing some ideas. None of this is rocket science, and you can probably think of more and better ideas than I can. Please add your feedback; sharing and participating here can give us all new and better ideas for developing our audience engagement.
IDEA: Find out more about your current audience's tastes. As with all activities, we'll need to explain to everyone why we are doing this beforehand, and what use we will make of result.
Give everyone some paper and a pencil before and after a film and ask them:
What have been the most life-changing films you have seen? Why was that and where did you see them?[2]
You don't want an essay, and it may be a good idea to give people notice that you're going to set this task (eg via the previous week's email) so they are prepared for it. You can encourage them to arrive a few minutes early, then pin the results on boards in your venue to stimulate audience review and discussion. The committee probably need to do theirs first just to get things started. Alternatively, you could ask for emailed responses, or via any other media people prefer, though getting everyone together in the same space will help encourage people to take part.
At the end, you'll have some data to inform your programming, be it new ideas for films to show, or even more broadly the kinds of films that your audience treasure. It could also give you a sense of your organisation's impact if many of the films were your own screenings. Then, publish the results. Don't let any data disappear into a black hole. If people have been good enough to take part, it's nice to know the outcome. And, if you do include some of the suggested films in future programming use quotes from audience members who mentioned them when you promote the film, if they are OK with that.
It's then easy to see how this sharing of ideas and input can be extended in ways which gives you useful information and creates good opportunities for social interaction at your venue:
IDEA: Our audiences often tell us about films they've seen elsewhere, so why not try and make a feature of it. Again, it can help inform your programming, whether the reports you get are good or bad, or also if it seems like everyone has already seen something.
So, at each film gather a list of what people have seen and get their responses/ratings; this can then be a useful service to the rest of your audience since it gives a sense of what might be worth seeing locally and in London, and it also develops your community of film goers. In parallel with this you could create an online space for people to share what you've seen. The UK Film Societies Group on Facebook does a similar thing for film society committee members (though the forum does much more than that) but it would be great to know what your local audience watch.
This is still pretty basic, though. As this series of articles continues, my musing on Nina Simon's book will start to generate more and more mad suggestions, some of which might work, and others which won't. The first fun stage is in the thinking, then in using your increased participation to help realise the increasingly mad ideas.
Nina Simon. The Participatory Museum. 2010. Museum 2.0: Santa Cruz, California. Also available on http://www.participatorymuseum.org/
This question was suggested to me by Guy Thomas (BFFS Chair) to ask when BBC R4's Any Questions was recorded in Forest Row, the panel of which included Jeremy Hunt, the then Culture Secretary. Unfortunately, though the question was on the short list, they ran out of time before I could ask it.