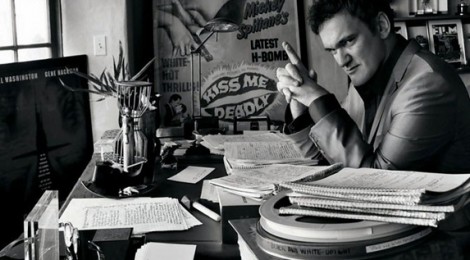 What makes a good film handout? It's common for film societies and community cinemas to make notes available to your audience, but there are some clear pitfalls. You also want it to be an efficient and speedy process which can ideally be distributed among many people, so what's the best approach?
This was a topic we touched on in the session "Education Made Easy: Making the Most of Your Current Resources" at the BFFS National Conference 2010, which included a workshop specifically on creating notes, the materials for which were supplied by Jaq Chell and Bryony Forde of BFFS. That context reminds us why we might want to create film notes in the first place; it is an opportunity to provide some sort of film education material, though it doesn't need to be heavily didactic. It should be possible to have a lightness of touch, even for some of the most challenging and difficult films.
First off, we collected everyone's thoughts about what we like or don't like to see when we read film notes, though you can probably think of a few more:
Good
Bad
Clear picture

Legible type size

Single sheet

Background context

Well structured

Running time

Date of screening

Forthcoming film(s)

Comments/scores from previous film

Discursive content

Very long

Spoilers

Ugly design

Too wordy and pretentious

Boring, irrelevant content

Typos

Too many superlatives/misplaced effusiveness
In addition, a clear assertion from many participants was "don't tell your audience what to think". Avoiding spoilers is a key one too; you may think that is obvious, but it still surprises me how often even professional critics include more information about the plot than I really wanted to know before seeing the film.
Some community cinemas clearly spend a huge amount of time on their notes. The note-writer may watch the film beforehand, read numerous reviews, background context about the director and the circumstances of the making of the film, and more, before crafting a considered, well-thought-out piece for distribution. That is a wonderful approach, but what if no-one is willing to spend so much time on the task?
Well, though it is probably a good idea that the writer has seen the film, it isn't actually necessary. I used to be a book publisher and one of my jobs was writing the blurbs for the back cover. Considering how many books we put into production a week it simply wasn't practical to actually read them, so there were always short cuts. The same is true with film notes. There is a risk you might mis-represent the film if you've not seen it, but if you've skimmed enough reviews, the chances are you won't.
The piece of paper you hand out can also serve as a means of audience engagement, providing news and feedback from recent screenings, and directing your audience to other sources. These can be further things to read, or to solicit comments (eg on your website). We've also used handouts as a place to promote other events in the village that might appeal to our audience, for instance.
What are the best review sources? It is a matter of taste. Everyone has their own favourite critics, but a good solid starting point must be the Movie Review Query Engine or Rotten Tomatoes, which list many review sources for each film in its database. They don't include everything (reviews or films) but they are always a good place to begin. Other favourite online sources for context were:
What other sources do you particularly value? I can't possibly leave out books, either, so these are my personal favourites:
Like me, you may also have lots of back issues of Sight and Sound. They are a brilliant source, though locating items in a large collection can be almost impossible (mine is almost complete from 1950, thanks to eBay). However, that need not be the case. Lots of universities use the Summon discovery service to enable their students find materials (print and online). You can often still search these and effectively use them as your finding aid by limiting the search to the periodical you are after. You can see an example search for "Cairo Station" on one such service, which directed me to an excellent article on Youssef Chahine from 1997 without having to leaf through the Sight and Sound indexes.
Once you have all the information, how best to assemble it? At the BFFS workshop, Barbara Hoffbauer of Swindon Film Society shared their template, which was extremely useful, and illustrated how it is possible to facilitate the more rapid creation of film notes. The template included:
Title (and original language title)
Country/year/length
Director (+ screenwriter etc)
Cast
Short synopsis, with no spoilers!
Image
Relevant enlightening extracts from reviews or other sources (with credit, and without repeating plot outline)
Film facts
You can see how this works out in practice by looking at the programme notes on the SFS website. The great benefit of this approach is that the notes look the same every time (consistent branding), and that in principle the job can be distributed among many people so you don't have to have one person burdened with writing all of them, especially if you have lots of films in your season. Furthermore, if you have a template and some clear instructions and guidelines, it is another opportunity for audience engagement: you can try and get interested members of your film society to write them, furthering the participatory nature of your organisation.
There is, of course, no single, right way of doing programme notes, and we'll all have our preferences, but there's no reason why you can't devise a simple efficient system that pleases your audience. That said, our notes are very sporadic, and I don't think we've done any this season at all. Are there any volunteers?