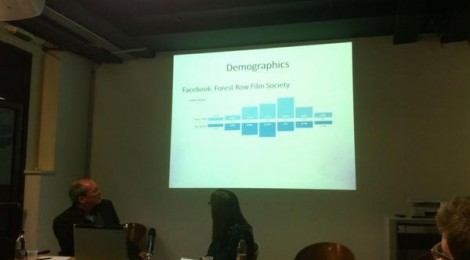 At the BFFS National Conference, Bryony Forde and I ran a session on social media, which was lots of fun. There was a lively Twitter stream throughout the conference, and some great contributions to the session. This post pulls together much that we spoke about in one place, and focusses on how users from film societies and community cinemas may use Twitter. This isn't all you need to know about Twitter, but may well be a good start. You can also read some basics about Twitter on Michael Hyatt's blog, and see the slides from the conference session on Slideshare.
Twitter is useful for reminding people about film screenings, but it can be much more than that. Indeed, if all you're doing is promoting your events, that is just using it as a sales channel, which some people hate. True, you will find that other people retweet your messages about your films, which is great since it gets people aware of your existence beyond your own network, and that may well attract new followers. However, you can also use Twitter to:
find and contact film-makers and others in the industry
ask questions
promote other events
comment on other films
retweet other interesting nuggets (this is very important! Twitter works best when users disseminate other's tweets. It's a network after all.)
add other interesting status updates, etc
run competitions
Your followers will build up gradually over time. You need to be tweeting reasonably often so that others notice you and retweet your messages. You can start off by following other Twitter users that are of interest. These could be:
film industry organisations and people
film journalists or newspaper film reviews
other community cinemas
independent cinemas, commercial cinemas, theatres etc in your area
your friends in the local area
local businesses and organisations
local government, charities, venues
film festivals, conferences
By following some film festivals and related events, you may then find an event hashtag to follow, eg for the London Film Festival (#LFF). If you're at the event, it can be great to follow the hashtag to get a sense of the buzz and news of the event in real time from other people. You may get film recommendations, or suggestions about which to avoid, or competitions. You may also find other people to follow on Twitter if they post interesting stuff.
It is also possible to find other people to follow by searching for Twitter posts mentioning film-related terms near you, eg via the Twitter Advanced Search:
https://twitter.com/i/#!/search/realtime/film%20OR%20cinema%20OR%20movie%20near%3A%22forest%20row%2C%20United%20Kingdom%22%20within%3A10mi
However, before you follow people, it is worth having a quick look at their Twitter stream to see if it is something that you might actually find interesting, rather than just follow them for the sake of it. Otherwise you might end up with a Twitter stream full of lots of rubbish, and you end up looking like you are stalking people. If I find someone talking about world cinema locally via this method, I tend to send a single message to them, just to alert them that we exist, and then leave it. If they are interested, they will follow, otherwise I just back off.
You'll need to promote the fact that your Twitter account exists; mention it on your printed programme, in every email you send out (in the "Contact Us" section in the footer), on every page of your website, indeed, whenever you mention your organisation.
Make sure you have all the key information in your tweets, including good key words. For our film screenings I pretty well always include "Forest Row", though it could be worth experimenting with other place names too, eg "Film tomorrow, near Hartfield", since many people will have automatic searches set up for mentions of specific places. If you are promoting an event, it is usually a good idea to have a link in there to your website; with many of the Twitter tools you can then check the statistics to see how often links get clicked. It probably won't be a hugely number, but you may notice that certain turns of phrase encourage users to click more than others. I use Hootsuite, though TweetDeck is another very popular tool. These tools are useful too, since they allow you to schedule your tweets for when you want to send them, which may not be when you write them.
Twitter itself is just a text tool, but there are other tools that allow you to tweet images, or even audio and video. I use TwitPic for images.
Picture of the full house in Forest Row Village Hall for the Buster Keaton films yesterday #frfest twitpic.com/azputu
Mention the Twitter addresses of other people in your messages since they will get notified. As Oscar Wilde said, "There is only one thing in the world worse than being talked about, and that is not being talked about." Let people know you are talking about them:
RT @AFMM40: Thanks to @forestrowfilms for showing Tim Plester @wayofthemorris hopefully this will inspire new members to join #frfest
When should you send tweets? Many posts suggest that the end of the working day, especially end of the week are good, but that isn't necessarily the best for all posts. See what works best. You may find that your local audience on Twitter use it more in the evening and at weekends, ie when they're not at work. Also, don't send too many. It gets very boring if people get a flood of dreary, uninteresting messages. They will either ignore then or just stop following you.
Remember that Twitter is a stream; unless people are logged in to it and following it all the time (and chances are, few of your followers will be), you may need to send some messages more than once. Even so, it's best if you can change the content so it's not just a repetition. If you do multiple tweets for a single film screening, say, you can:
send them at different times of the day: say 8.30-9.30, late pm, or early evening, to hit different users
include different content, eg links to different reviews, one could be to the trailer, an interview with the director, etc
find a good quote from the film screenplay if you can. If it's a particularly arresting one it may well get noticed more and retweeted.
Best not to use all 140 characters, try and leave 20 for RT and your address, which will be pre-pended in the tweet. Furthermore, if you really want someone to retweet it, why not say so "Please RT", though not on every single message since that gets very boring
If you get a comment from someone, do respond and keep the conversation going. Like all social media tools, Twitter works best as a means of engagement, and that is worth remembering. A one-way flow of messages outwards is not that interesting; Twitter is fabulous for connecting with other people and building a network. However, just messaging a simple "Thanks" as a reply isn't great; if other people see the tweet (which they will if you the first character is anything other than the @ symbol, or if they look in your Twitter stream) they won't know what it's about. Responses can easily reference the original theme, eg
Fantastic. Thanks. Any opportunity to find silent music scores is to be encouraged!
Visualising Twitter: There are some very useful ways of analysing your tweets. TweetStats gives you a graph of days and times of all your tweets, plus other useful summaries of your twitter usage. The Tweet Grader will also give you a graph showing the trends in the numbers of your followers, and in the number you follow: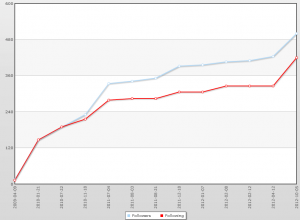 This blog post really hasn't covered everything about Twitter. You can easily find out more, searching for "Twitter tools", "twitter visualization", etc, or there's some free courses.
Have fun, and follow us on @forestrowfilms
Note: This is the first of three articles on the use of social and digital media in community cinemas. You may also want to read the articles on email and Facebook.