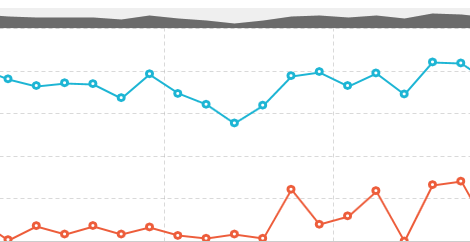 I suspect we all use email to get information out to our audiences. It is still one of the best means of direct contact. Though email is seen as a bit old fashioned by younger people, 80 per cent of people over 35 say it is their preferred means of receiving this kind of information. That being the case, how can we make sure we're doing it as best as we can and not missing a trick?
First, you need to make sure that capturing email addresses is a constant activity. There should always be someone new you can add to your list at every screening. It also gives you a perfect opportunity to engage new visitors in conversation, find out where they've come from, what they're interested in, how they heard of you etc. Ideally, you should have a designated person in the auditorium going around talking to people they don't recognise and getting email addresses (and their name, of course).
Other than that, ensure there is a sign-up form on your website and, more to the point, that it is clearly and unambiguously accessible from every page. Never assume that someone will come to your website from the front page, so you may only have one chance to catch them. Remind people about the email list on your printed programme too, and we tend to send periodic reminders on Facebook or Twitter to try and capture users on those channels that aren't signed up to our email list.
What are we trying to achieve with the email list? The main objective, surely, is to get more people to turn up to the films. But, there is more to it than that. If people just turn up, don't talk to anyone and then never come back, that isn't great, so we can also think of our emails as part of a continual audience engagement activity.
With that in mind, the emails you send can ask questions, provide feedback, include links to more information, direct users to Facebook or Twitter, and encourage your audience to help you disseminate information about your activities. They've already chosen to get your mail and so demonstrated their interest; now, from time to time you can ask them to help you create an even bigger and better film-going experience. That could be just by forwarding an email to a friend, but they may end up volunteering in other ways. People like to be asked.
Using a tool like Mailchimp will also give you some useful statistics about how people interact with your emails. Not only will Mailchimp let you know the percentage of your mailing list who open each mail, and click on any specific link in it, but will also give you information about individual behaviour.
This is extremely useful stuff; once you know about users' behaviour you can adjust the form, content and timing of your email.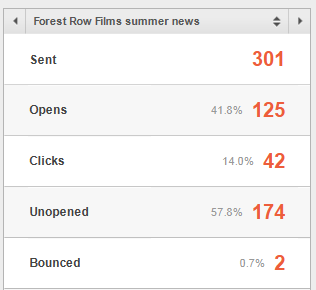 First off, how many people will actually open your mail? The Forest Row Film Society list has an open rate of between 29 and 43 per cent. I tend to assume that two-thirds of people will not actually open the mail. Now, that isn't necessarily the same group of people for each mail, but knowing this means that you've only got your email's subject line to get your message across to two-thirds of them. That being so, you don't want to have a generic subject, eg:
Forest Row Film Society weekly email
and you certainly shouldn't leave the subject blank. Much better to at least indicate what the headline information is. If it is the next film you're promoting, mention the title, and date, and (possibly) a hint of why the recipient should attend, eg:
Film on Friday: Ivan the Terrible – Eisenstein + Prokofiev
You shouldn't necessarily be worried if most people don't open the emails; we still see many of them turning up for the films, so simply receiving the mail is often all they need as a reminder.
In our experience, no matter how we vary the email subject line, for most regular film screenings, the open rate stays at about 33 per cent. The emails that have had a much higher open rate (but only up to 43 per cent, at most) have been those which promise important news of some sort, eg a change to the advertised programme, our first announcement of a new season's films, or AGM announcements (funnily enough).
Email content: Once the email has been opened, what might the recipient reasonably expect to find in there? Further details about the film, date, time, prices, and more. In short, this is the opportunity to sell them the idea of the film, and demonstrate why they should come. It is missing an opportunity if you only give extremely minimal information here; having just made the effort to open the email, don't expect the person to willingly be directed off to another source (eg your website) to find out more. Lots of people won't bother to follow up any further, you will lose them, and they probably won't come to the film.
So, our emails typically have the following structure:
Engaging first line, either about something coming up or the audience score of the last film
Very brief sentence about the week's film, why it's good (eg "we saw this in preview last year and loved it"; personal recommendations work particularly well, if your audience trusts your programming judgement), and when/where it's on
Light, short, friendly newsy item, eg our venue's roof fund, etc
The full blurb about the film lifted from our website, including duration, director, certification, country of origin, good review quote(s), synopsis with no spoilers (!), an embedded trailer, and a list of other things to read
Other related local news, which could be a music event, some highlights of neighbouring community cinemas or local independents
What about style and tone? There is loads of information about how to write for the web, and those principles apply equally well for the sort of emails we write. It is really common sense; keep it light, fresh and conversational. Typical good advice can be found on the eConsultancy blog, useit.com, and the popular articles on Copyblogger. One particular thing to avoid is using the phrase "click here" as the text inside a link; people know how to use the web, so make the text of a link something that makes sense in the context of the sentence.
Check the mail for accuracy, spelling, grammar and punctuation. If it is sloppy it may put people off. Just because your community cinema is run by volunteers doesn't mean that it shouldn't be professional.
We include links to (good) reviews of the film or information about the film-maker, as well as links to the previous film page on our website to encourage people to add their comments. There may also be links to other events in the village. The click-through to these items is never high; for most people, reading about the film in the email is enough. We tend to get click rates between 2 and 15 per cent, normally in the lower end of the range for those people who want to read more reviews. The higher click-throughs are invariably when there might be a change to the programme, when we announce our new season, or for the annual village festival.

Mailchimp allows you to schedule your emails, so you can write them in advance and send them at the best time. Most people tend to open them in the morning, and it can be at least three days before the number of opens stops rising. This means that you don't want to be sending out reminder emails on the day before since a good portion of people won't have read their mail before the film screens.
Mailchimp includes lots of very nice features, and allows you to segment your list, and rates all the recipients depending on how much they open or click. That feature alone is fascinating. It shows you which people are most engaged with your content, and begs the question: do you know them all personally? If not, find out who they are; if they are reading your emails that thoroughly they are prime candidates to be ambassadors for your community cinema.
Once you have the tools, you will be able to think of more and more ways of using them to engage your audience, get more people to turn up, and create a great, memorable and enchanting event for your commnity.
This piece has only touched the surface of the subject. There are lots of useful sources on the web about email marketing techniques and tips, and the Mailchimp site also includes useful resources. Do let us know what you think and add more sources and feedback in the comments below.
This blog item was prompted by the social media session at the BFFS national conference, and follows an earlier piece on using Twitter for community cinemas.
Note: This is the second of three articles on the use of social and digital media in community cinemas. You may also want to read the articles on Twitter and Facebook.