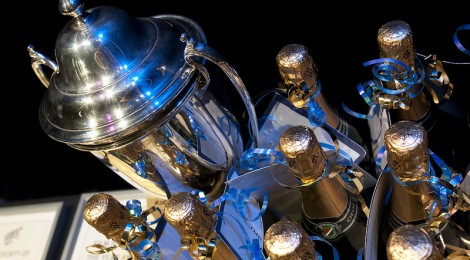 During an incredibly enlivening and inspiring weekend which included the national community cinema conference and Film Society of the Year awards, Forest Row Film Society were delighted to receive a Distinction in the Best Programming category.
Every year, the British Federation of Film Societies run the national conference, screening weekend and awards. It is always an essential event for the community exhibition sector, since we get a chance to preview some interesting films, attend workshops and other sessions, and talk to people. We always come away with lots of ideas for things to do in the future, even if we don't necessarily have enough time to realise them.
This year was no different; if anything, it was the best such event I've been to. Kicking off with an opening plenary by David Cooke of the BBFC, we were either exploring alternative content (ie screening live streams of opera and theatre, which some film societies are starting to do) or watching an amazing new film. We were all sworn to silence about the latter, since it hasn't even had its festival releases yet, but it was indeed excellent and will almost certainly be on next season's programme!
That was swiftly followed by a session on Making and Screening Your Own Films, which sounded great, though I went off to meet Tony Britten, the director of the charmingly wistful In Love With Alma Cogan, and then ran a Q&A session with Tony afterwards, which was very interesting. The film has an incredible cast of lots of familiar faces (Niamh Cusack, Roger Lloyd Pack, and even a cameo from John Hurt), and was gorgeously filmed in Cromer in November. It got a very warm reception, and would be another good one for us.
Then, the awards, presented by Amanda Nevill, the Chief Exec of the British Film Institute. We were shortlisted for the Best Film Programming category, which we won last year, and it was always going to be a tough one, considering the fantastic submissions by other groups. Indeed, it has been really noticeable how strong the submissions were right across the board, for all the awards. There is an incredible range of community cinemas out there doing some really fantastic things. We ended up winning a Distinction, which was very pleasing. The award itself was won by the very marvellous Minicine from Yorkshire. Do check out their website to see what they get up to. They clearly have a lot of fun, and it was great to meet them.
The full list of all the winners is on the BFFS site, and it is hard to single out particular organisations, since everyone does such inspiring things, but I was particularly pleased that our near neighbours Hurtstpierpoint Film Society got the Best New Society award, and the guys from Newcastle Community Cinema from Northern Ireland were clearly very deserving and brilliant winners of the big prize, the Film Society of the Year. Having seen pictures of how they converted their venue into the bowling alley for the screening of The Big Lebowski, it's obvious they have tons of flair, style and energy.
After all that excitement, people were a little thin on the ground first thing on Sunday morning, with many going to see the new French film The Snows of Kilimanjaro. It really has nothing to do with the film of the same name from the 50s, or, indeed, Hemingway. Set in Marseilles, and directed by Robert Guédiguian, it is a really good drama, which again would be perfect for us.
I didn't manage to see it, though, since I was in the workshop on social media, which was a very lively and productive group, and which generated a good portion of the Twitter traffic over the weekend. There were organisations there who have not yet engaged with these tools, and others with much experience, so was good for bouncing ideas off each other. Huge thanks to Bryony Forde at BFFS for asking me to take part. The slides are available on Slideshare.
You can get a sense of the session and the weekend as a whole from this archived Twitter stream for the event.
By now running out of steam, I caught most of Andrew Kötting's wonderfully loopy Swandown. Quite unlike anything else, it chronicles the journey that the director and Iain Sinclair took from Hastings to Hackney in a swan pedalo. It is gorgeously playful, poetic and fun; they navigated the Rother, the Medway and the Thames, and Forest Row even gets a mention (apparently; that was the bit I missed…). One for the Forest Row Festival 2013, for sure.
I missed the shorts programme, and Clouzot's great Les Diaboliques, as well as the session on How to Make the Most of Your Venue. That sounded like lots of fun, as they prepared for a screening of Lamorisse's The Red Balloon, bedecking the place with inflatables and bunting, and talking about the importance of cake. As Mark Cousins has said:
It's not so much the content as the form….It's the experience itself rather than simply what you show. If you can re-enchant your audience … then you will have something special.
So, an inspiring weekend. For me, it is that sense of enchantment that is really special. I think we get it sometimes; most events feel pretty special, since they are all a celebration of community, but there could be more. Do you fancy filling the village hall with plastic ducks for a screening of Swandown or crafting some other festivity around one of this season's screenings? We need you. You are the audience. You are the community cinema.