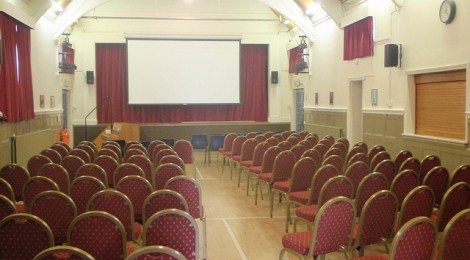 The Annual General Meeting of Forest Row Film Society took place on Tuesday 16 March 2010 at the Brambletye Hotel.
Present: Robert Evans, Marie-Claire Thomson, Yolene Crawfurd, Brad Scott, Patrick Crawford, Sundari Heller, Tony Lewin, Tim Leeney, Suzanne Hillen, Cathie Hubert, David Catchpole, Valerie Moss, Sonia Ashe, Rachael Pereira, Judith Gleeson, Fred Doll, Steffi Pusch, Sanna Heald
Summary of 2008-9 season
Our last season was the most successful ever:
£12,000 grant funding and new digital equipment
Biggest and most varied season of films in our history (29 films, including 4 with TFR, 2 children's films and 1 at Michael Hall)
Average audience has doubled in the last ten years
New community engagement initiatives and strong local profile
Central part of the Forest Row Festival
New blog, Facebook, Twitter and text messaging services
The expansion of the number of screenings is particularly significant: five years ago we were doing nine films a year; this current season (2009-10) there are 34 film events, including 7 with Transition Forest Row and the animation workshop, plus an external screening at West Hoathly church.
The latter event reminds us too that the new equipment includes a portable screen and speakers, which can enable us to screen elsewhere. We have also done a screening at Michael Hall. However, though we are keen to do other screenings in the community, it requires a fair amount of work to do them at other venues and we need to ensure we have an appropriate charging structure.
The work over the last few years has also resulted in our being recognised as Film Society of the Year 2009.
Accounts
Our accounts for 2008-9 are available on the website. Our season runs from September to May, and accounts are from 1 June.
Excluding grants, our income last year was almost exactly £6000, with expenditure being just over £4500. The chart below shows our year-end balance over the last six years, excluding grants.
Income for the current season will be roughly similar, though our expenditure has been higher this year: there have been some one-off expenses arising from the new equipment (cabling, electrical work, new cupboard), not all of which has been completed, and our programmes cost much more with the switch to full colour. Realistically, we will probably only break even this year.
Film sources
Brad outlined the issues with sourcing films. In principle, there are loads of films that we could screen, but tracking the rights holder to obtain the necessary licence can be very time-consuming. It is essential that we have the licence: for a recent film, the US rights holder called the village hall from LA to check that we were presenting a legitimate screening.
In practice, most of our films are hired from:
• British Film Institute
• British Federation of Film Societies
• Filmbank
We also hire films direct from production companies (eg Dogwoof), especially those that preview their films at the ICO screening weekends. The MPLC also has a non-theatrical licence arrangement. See Films Available on the website. We can still show 16mm films too, though these are really only available from the BFI, but can sometimes include gems that are not available in any other format. A list of films that have been suggested to date by members and the committee was also circulated.
The future
With our major expansion, we are delighted at the huge support we have for our screenings and the number of ideas and suggestions that we receive, whether on the night, via email, through the website or Facebook. However, to build on the current activities we will need further help and support to deliver film events in the village.
A list of tasks was circulated: this detailed most of the things that need to be done to maintain the Film Society's activities. These ranged from things that need to be done for each film on the night, to the more periodic and annual tasks. The list also indicated whether we are undertaking them at the moment, and the amount of effort involved. Many of those present volunteered to take on one or more tasks in the future, or to review the list and get back in touch. The list will also be circulated to everyone on the email list and via Facebook.
A number of other events and activities were discussed:
Film for One Village 2010
We have been heavily involved in the annual Forest Row Festival since its inception. This year there is an additional village festival, taking place in June. It has been proposed that we screen a film on Friday 19 June as part of the festival. This coincides with the screening of an England World Cup match in the marquee that will be on the sports ground, so any film we choose will need to take that into account. If anyone has any suggestions for films that we could screen, please let us know as soon as possible.
Saturday screenings
Saturday evening screenings were an innovation this year. They have not been as well attended as the regular Friday slots, though they do attract people who can't otherwise make it on Fridays. If we are to continue with them we will need to extend the number of people who can run the events since the existing committee would prefer to put their efforts elsewhere.
Film festival
Running a small-scale film festival was the idea that attracted the most attention, with several of those present very keen to be involved in the practical organisation. The proposal is to have the event over a long weekend in February 2011; if anyone knows of any other events that are happening in that month, please let us know. We will need to investigate possible funding sources. Possible events that could be included are:
Screenings from local film-makers
Films that have not been released in the UK, possibly introduced by film-makers or film journalists
Screenings or other events involving some of the film industry professionals who live in the area
Hands-on events (eg film-making workshops etc)
Silent films
Cultural activities around the films, including food/drink and talks
A festival team will get together soon to brainstorm and put together a proposal. If anyone is interested in being involved, please let us know.
Films for children and young people
There is some keenness to develop more programmes for children and young people. Hitherto, our screenings have only had partial success since we need to develop a different promotional strategy for these films. Given the proposal to deliver a festival next season, which would most likely include one or more events targetted at young people, we decided that we would continue with the existing level of programming and work on promoting them better before embarking on a fully-fledged programme aimed at young people.
AOB
Judith Gleeson suggested that, as we expand, it may be prudent to become a Company Limited by Guarantee
Tony Lewin suggested a drive-in. This is certainly possible, though the logistics are rather more complicated
In the absence of more formal post-film discussions, Brad noted that many people end up in the Swan afterwards